Why Branding Is Important For Politicians To Win The Next Elections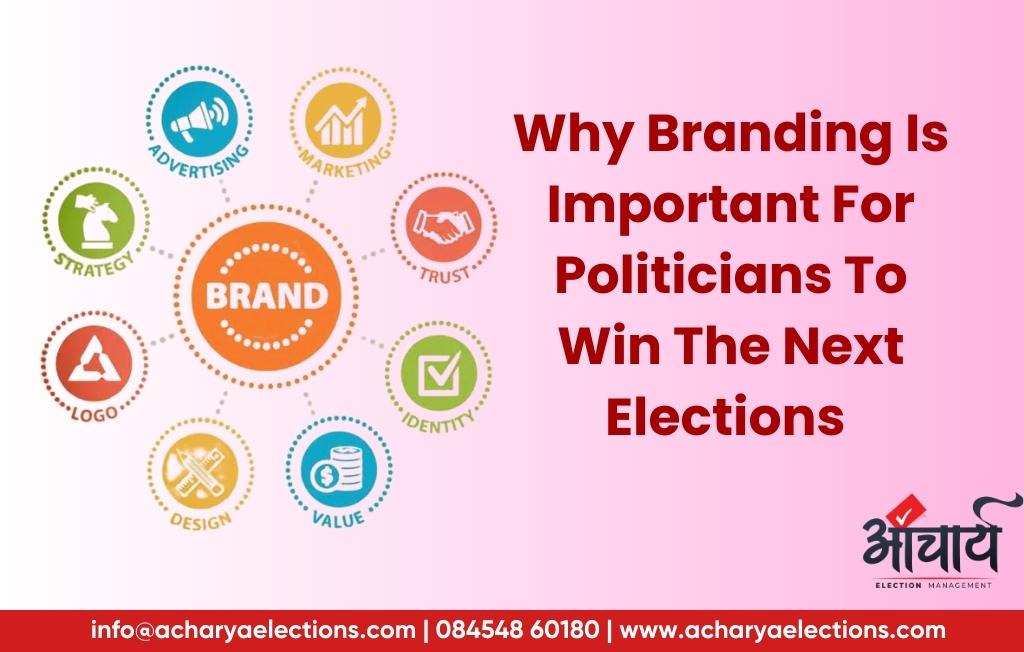 Each political leader has a brand identity. And as to develop a unique and memorable image, message, and personality for a political candidate or a party, branding acts as a powerful tool. In every election, candidates from various parties participate, making the individual challenging to stand out from the rest. This is where Branding helps voters identify you and make a deeply connected relationship. 
Political Branding in general is the process of creating a winning strategy that portrays your strong presence among the audience. Effective branding can help politicians establish a clear and consistent identity that resonates with voters and sets them apart from their opponents. 
Acharya Elections provides the best election campaign services in jaipur, Madhya Pradesh, Uttar Pradesh, Maharashtra, Karnataka,Rajasthan and other parts of the country with a strong network of professional political consultants.
Our Personal Political Branding includes:
Logo

Key Message or Tagline

Professional Graphics, Videos & PR

Social Media creatives, Advertisements, Mailers, and Signage
Political Branding consists of four major key components such as raising awareness, growing interest and building understanding, engaging people through various mediums, and influencing them accordingly. It can be attainable by conducting thorough research and organizing campaign rallies, surveys, and press conferences all on a budget.
You must have observed a few political brands and their campaigns around you, especially during elections. You can also spot political branding on television ads, social media channels, billboards, banners, political mailers, and campaign vehicles. Powerful branding will utilize consistent campaigning across offline as well as online platforms. 
Let's find out how politicians can win the next elections with the help of powerful political branding:
Logo and Visual Identity
A memorable logo, tagline, and visual identity are major components of personal political branding. These elements should be simple, recognizable, and reflective of the candidate's values and message where people form a perception about the candidate. Logo and other brand design elements play an important role in identifying and triggering instant responses from the audience. Most people will get attracted to your campaign signage before they watch your interview or read your profile. People compare consistency with professionalism and competence, qualities any candidate should seek to embody in their branding.
Strategic Brand Messaging
Strategic brand messaging is essential for creating a strong political brand through verbal or non-verbal ways that will help voters identify what they stand for and how they are better than other candidates. Political candidates should communicate their goals, values, and priorities by developing a clear and concise message. When a party candidate delivers consistent messages, it publishes content that constantly represents the candidate's purpose, mission, and core values, which builds a cohesive brand identity and creates a personal connection with voters. We have served as the best election management company in Rajasthan, Madhya Pradesh, Uttar Pradesh, Maharashtra, and other areas where we have crafted brand messaging strategically to stand out from the crowd and relate to the voters.
Personality and Tone
A candidate's personality and tone can also play a significant role in their branding. Brand personality helps candidates or parties shape the way people feel about them. It elicits an emotional response in a specific voter segment, with the intention of inciting positive actions that benefit during the polls. The brand personality promoted for the candidate is based on the electoral expectations of the nation. Politicians should aim to project a positive and relatable image that resonates with voters. However, it is not established at a given moment. It transcends from the lowest association level to the highest through the continuous medium of exposure such as advertising, promotion, events marketing, and public relations.
Social Media and Online Presence
Social media and online channels are critical for reaching voters in today's digital age. It has changed the political campaigning landscape where it majorly focuses on dissemination, opinion reinforcement, and support mobilization. Social media has the widest reach of audience, direct communication with various groups of interest, and collecting potential audience data where targeted ads can be placed to reach similar audiences.
The platform serves as a medium to distribute election highlights, party objectives, establish battleground issues, connect with voters in real-time, post consistent key images and videos, campaigns, and discussions with journalists, political elites, and other popular personalities. Our social media marketing strategies can assist politicians in improving their personal branding and winning voters through social media marketing practices. Being a political election management company in Rajasthan, Madhya Pradesh, Uttar Pradesh, Maharashtra, Karnataka, and other parts of the country, we deliver the finest social media strategies and excellent work in political consulting.
Grassroots Support
Politicians for their branding efforts must concentrate on gaining grassroots support. Politicians require grassroots support as it reflects the true needs and sentiments of the constituents they are trying to represent. Candidates should devise plans for interacting with local voters and assembling a solid group of supporters who will help them in winning elections. The true core is to build relationships with local and interest groups as well as individuals to know about the problems they face. Politicians need to be visible and accessible, and they need to engage with people in an authentic way. This means organizing rallies, attending community events, meeting with local organizations, and having a presence on social media platforms where people can connect with them directly. Politicians who focus on building grassroots support will be better positioned to mobilize their base and win elections, as well as to build a lasting legacy of support and influence within their communities.
Overall, personal branding is a crucial component of a successful political campaign, and politicians who invest in their branding strategy are more likely to win the next elections. Hence, partnering with the right political management agency is the true hack to keep you ahead of the opponents. If you want to manage your political branding effectively, and efficiently, along with your party, Acharya Elections can offer you one of the best solutions. As one of the top Election Management Company in Jaipur, we have helped politicians win the elections by establishing name recognition, creating a distinct identity, building trust and credibility, increasing visibility, and mobilizing supporters. Connect with us to get personalized services in accordance with your needs.