What Set Us Apart From Other Election Management Agencies?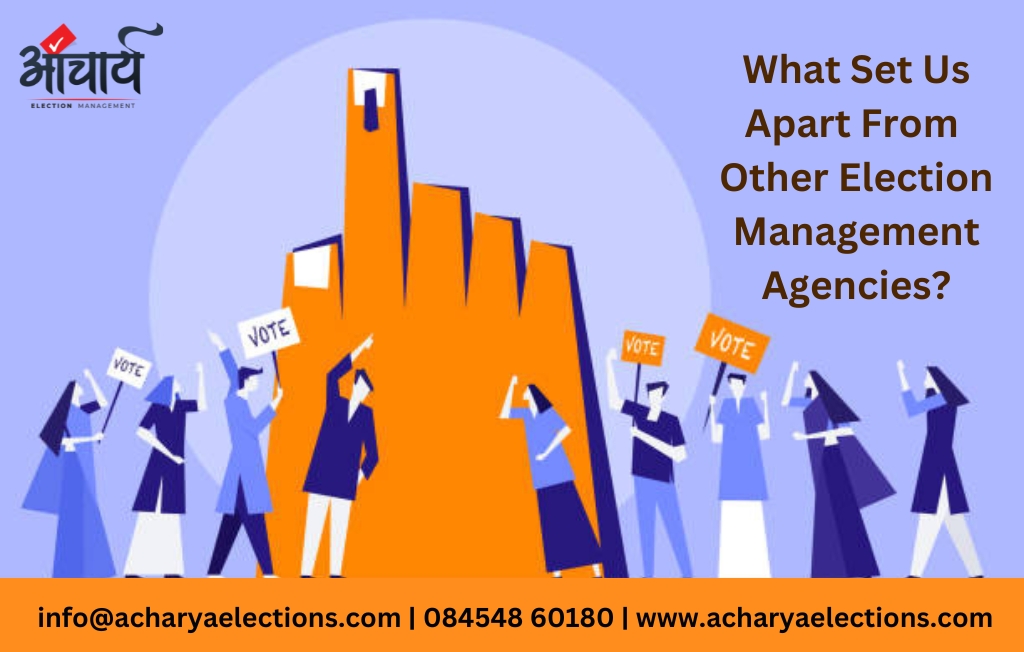 Political Consulting or Election Management, particularly in a diverse nation like India, where election campaigns are segmented at the grassroots level, has emerged as a significant force to be reckoned with. Modern election campaigns have now been a game changer for Election Marketing Company in Mumbai, blending offline, online, and on-ground campaigns. We can say there has been a significant shift towards political campaigning and we have completely given a diverse outlook to the way election campaigns are perceived today.
Acharya Elections, an election management company in India, take pride in our comprehensive services, unique capabilities, and strengths that set us apart from other agencies in the industry. We understand elections and other political campaign activities are pivotal to the nation's quality governance and can be a breakthrough move or could set back the nation's as well as state, regional, and global long-term development. We combine the experience and expertise of our advisors with unrivaled resources and digital solutions to help candidates plan for their elections.
Here are some of the strengths that differentiate us from other election management companies:
Comprehensive Election Management Services
Considering today's political scenario winning elections is more difficult. To keep the party candidates rising above as deserving ones, we offer a wide range of election management services that are tailored to meet their specific needs and goals. From election strategies, voter outreach, and training to election monitoring and analysis, we provide end-to-end solutions that ensure a fair, transparent, and efficient electoral process.
Election campaign management and IT solutions are provided using the best modern techniques and metrics that measure voter state of mind and plan out for success in polls. Our strategically organized effort pursue to influence the decision-making process within a specific group. As an election promotion company and political consulting firm, many political parties and candidates have successfully set their political career road mapping through our election management services. If you are looking for an Election Management Company in Rajasthan, Acharya Elections is here to provide 360⁰ Election Campaign Services in Rajasthan.
Cutting-edge Technology
We use the latest technology solutions and digital marketing techniques to create a strong presence of political candidates and parties and reach voters. Our campaign teams use data analytic software to identify voting patterns, preferences, and trends to create more targeted and personalized messages for voters.
With a data-centric digital marketing approach, we thoughtfully plan and execute digital campaigns through social media platforms, campaign websites, customized mobile applications, war room software, and other branding-related services. We also perform digital advertising on platforms such as Google AdWords and Facebook Ads enabling campaigns to target specific demographics and interests with tailored messages. As technology continues to evolve, we can expect to see new and innovative ways to reach and engage with voters.
Access to Expertise
Our team comprises highly experienced and knowledgeable professionals with years of experience in the election management field. Our staff includes election law experts, IT professionals, data analysts, and political strategists who bring a wealth of expertise and insights to every project we undertake. Our team will do everything possible that is necessary to guide parties and candidates through every venture of political marketing and make you win. We also provide volunteers and build an efficient team to manage your door-to-door surveys, booth management, war room, PR, and media management. This can free up party members to focus on other important tasks.
Customized Solutions
Every party candidate thinks differently and sometimes needs unique solutions. They need their personal identity eccentric. Hence, we work closely with them to develop customized solutions that meet their strategic objectives and goals. Our team takes the time to understand each candidate's unique requirements and develops tailored solutions that help them achieve their desired outcomes within budget. With a combined view of the political agenda, campaign objectives, and execution requirements, we offer successful campaigns that offer big returns.
Our professional services can help ensure long-term success for both, by ensuring tailor-made solutions that fit their needs, driving audience interaction, and keeping it all running smoothly with technical and support services. We service multiple candidates and a range of campaigns that often require specialist services. Hence, we employ a personalized management team, methodologies, and tools.
Strong Reputation
To gain true competitive advantage, you need to have strong repute. During the elections, when the whole nation needs to make the decision to vote for the right candidate, that one decision changes the life of the candidate in a big way so they ensure the political team they choose should provide genuine services and serve a great reputation.
We have built a strong reputation for integrity, professionalism, and successful outcomes in the political field. Our track record of delivering results and ensuring fair and transparent elections has earned us the trust and respect of our clients, and we continue to strive for excellence in everything we do.
Training and Education
Politicians are public images, meaning they must portray a leadership image to the public and always maintain responsibility and negate perceptions to protect their image. Most politicians do not have the political experience and knowledge to run the election effectively. Acharya Elections provide insightful, tailored programs and resources for your needs – whether you are running an election or planning a grassroots campaign. We provide speech and media training to create a good impression in the media, interact well with voters, and leave a mark at political rallies. Our training and education programs are for election officials, candidates, and volunteers. Our programs improve the overall electoral process for candidates and ensure fair and transparent election win.
Political management services are essential for elections and campaigns, providing comprehensive support to candidates seeking the desired position. In conclusion, what sets us apart from other election management agencies is our commitment to providing comprehensive, technology-driven, and customized solutions that ensure fair, transparent, and efficient elections. With our experienced staff and a strong reputation for delivering results, candidates can gain a competitive edge and exceed their expectations.
Are you looking for a Political Election Management Company in Rajasthan, Mumbai, or in other states? Acharya Elections is one of the best Election Campaign Management in Navi Mumbai, India. To know more kindly contact us at +91 8454860180 or mail us at info@acharyaelections.com.