What Political Consulting Firms do?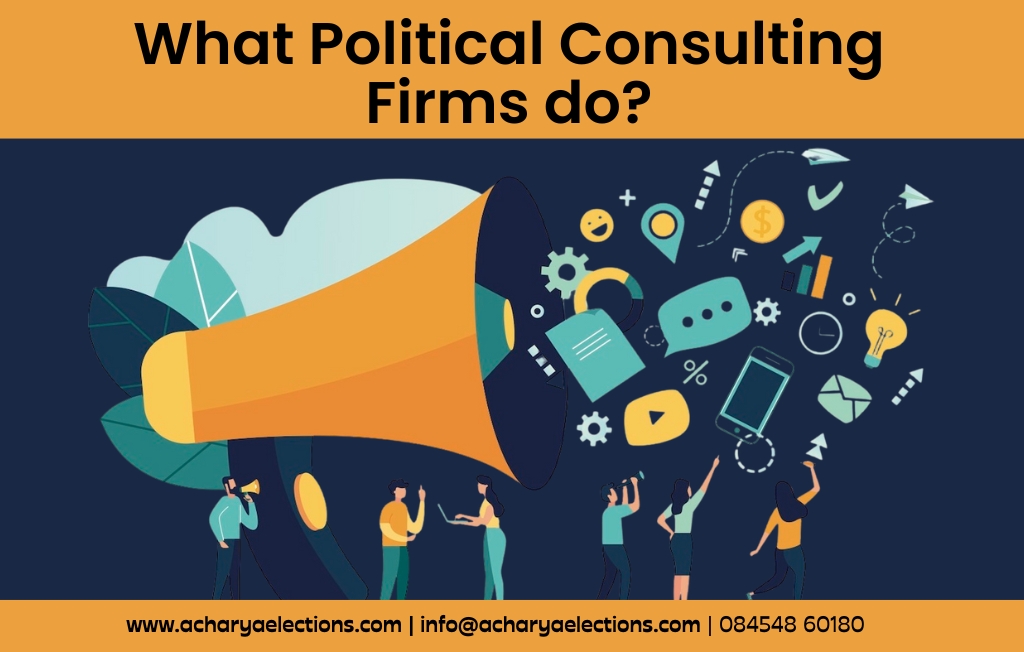 Have you ever wondered who is behind political campaigns and advertising? These are managed by the professional strategists of a Political Consulting Firm. Political Consulting Firms help assist political parties and candidates to win the elections. Political consulting firms offer strategic guidance to election campaigns, political action committees and grassroots advocacy organisations. As such, political consulting often begins with crafting the strategies for a candidate's public image, intensive research and data analysis and ends with tactical war room set-up. The ultimate goal of campaign consulting is to get a candidate win the election and get elected to their desired position. This typically involves establishing a strong message to voters, effective campaign management and managing the PR and media. Once the candidate is elected, political advisors may also be needed for press statements, crisis management and re-election strategies.
Political consultants and strategic campaign advisors provide a wide array of services to clients. Many campaign strategies begin with written action plans designed to guide the candidate until election time. This plan may provide details of how to shape the candidate's strong public image, build movements and influence public opinion. Political consultant combines political strategy, brand management and campaign development, & creative storytelling to engage voters, and no matter your political bent.
As the needs of every candidate in the political realm is different and unique, the political parties must connect with consulting firms that have industry-specific knowledge, skills and experience to serve you better and top your position in the political race. Here mentioned below political management services are some of the key activities political consulting firms do.
Unmatched Services Political Consulting Firms In India Provide For Political Entities
   

Election Campaign Strategy


Politics is never a straightforward game. Even the most genuine politicians have to indulge in some or the other strategy to connect with voters and win against opponents. An election campaign strategy consists of three main components–purpose, vision and message. As campaign strategists, we use our unique polling methodology and proprietary data analytics to generate insights and strategies for a campaign that persuades voters to vote for the candidate.
   

Campaign Management


One area in which political consulting firms often concentrate their efforts is campaign development. Sometimes, this may focus as a single and central theme, and other times candidates need several key campaigns. Developing a campaign may also require voter survey and analysis, in which campaign literature and messages are targeted to a specific demographic audience.
   

IT & Communication Consulting


A key part of modern politics is effective communication and strong presence. As we all know, the communication landscape has changed now. People are now more directly connected to candidates and political groups via digital media. Candidates may need guidance with managing the media, through both traditional and online channels. Their political presence needs to boost with digital marketing & IT solutions through personalised websites, social media and messaging platforms to seek support from all the strata of the society.
   

Media Training


Political consulting firms work to establish relationships between candidates and media reporters. Knowing how to deal with any type of media, from traditional media to online platforms such as social media, one of the important parts of the political process. A strategic political consultant helps political groups with media training and other related matters. This can involve handling unexpected questions and remaining composed during live events and press conferences. Press releases and media events planning and management is another aspect that comes under media management services.
   

Research & Analysis


Political campaigns agencies that are not data-driven are going to fall behind. It is important to understand that obtaining, analysing, and using political data is essential. A political consulting firm helps with data research and analysis. Strategic political consultants often offer research-related services to their clients, both qualitative and quantitative data can be used and analysed to help develop and build solid campaign strategy to win the election.
   

Reputation Management & Branding


Our election campaign strategy team comprising of polling experts, data scientists, social and political scientists who over the course of two decades of consulting has advised several National and State leaders on Reputation management & personal branding. Additional functions of political consulting firms often include personalised calls, messages and mails to influence voters, opposition research and compelling visual design of signs, pamphlets and banners.
Crisis Management


No campaign or political party wants to go wrong during the elections. However, the reality is that not everything is always smooth in the political environment during this phase. Mistakes happen and unexpected situations arise. A political consulting firm can assist with crisis management, including preparation of speech, rapid response and creating a war room. Political consulting firms may also be retained for the re-election strategy of the candidate.
Political Consulting Firm Provides Unique Strategy & Personalised Attention
One of the core solutions of a political consulting firm is tailored-made strategies and personalised attention to meet the unique needs and goals of each candidate or political party. Indeed, it begins with understanding the position and objectives of the candidate or political party. Only with clear and comprehensive knowledge of the situation, a political consultant would be able to provide effective guidance and support.
Acharya Elections, one of the best Election Management Company in Navi Mumbai put a strong emphasis on personalised advice. We devote our energy, time, resources, and attention to the small details to ensure that we are in the best position to help our candidates achieve their big goals.
Acharya Election Management team, is proud to be experts as a strategic political consulting firms in India. If you have any questions or requirements about political consulting and services, we are here to help. Contact us today and find out more about how our election campaign management team can help you.