Scale your Political Presence with the Best Political Consulting Services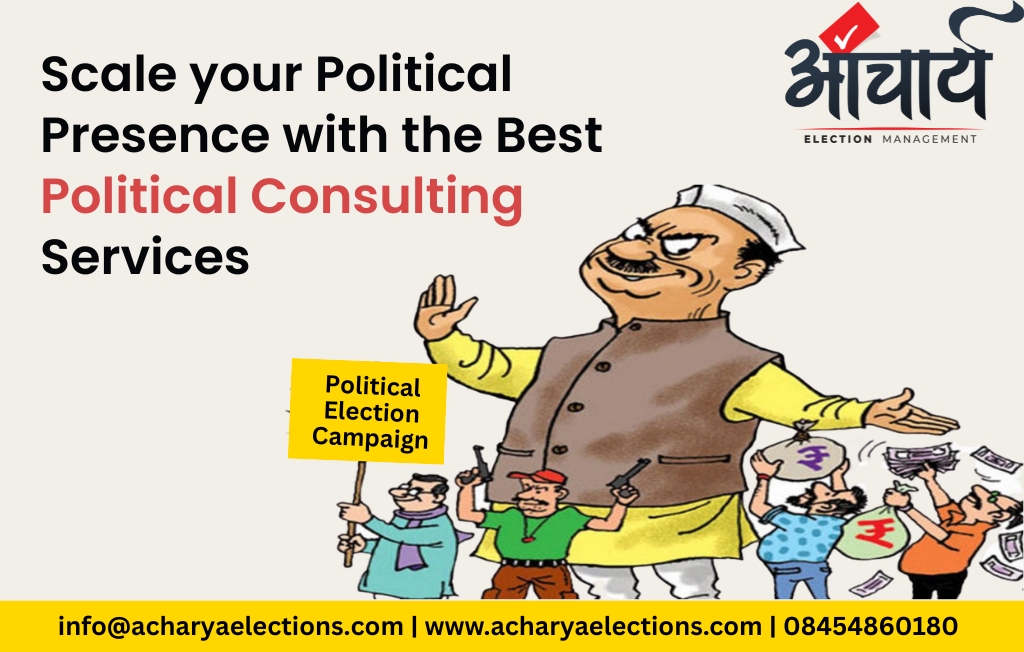 Political Consulting is a form of seeking professional help that includes primarily advising and assisting political campaigns. Although the most important role of political consultants is potentially the development and production of campaign messages, mass media (mostly television and direct mail), etc. consultants advise campaigns on many other activities, ranging from voter polling, opposition research, to field strategy and get out the voting efforts.
Political consultants act as public relations specialists or advisors, analysts as well as managers. They provide expert or strategic advice and related election management services for consideration and decision-making. Using many forms of marketing-suitable media, including advertising and press media releases, the common goal of political consultants is to make voters aware of their candidates' party platform. Political strategists that are under national political campaigns are key decision makers. Consultants direct a campaign's message across media and work with the candidate on speeches and answers to questions during interviews so the right message will be communicated with the audience.
Political consultants help scale candidates' political journey, reduce overhead, increase winning chances, and make a more productive and prominent image. These advantages can result from integrating and streamlining workflows and strategic campaigns in novel ways, and by implementing new solutions to solve common and uncommon election "pain points."
Political Consulting Firm provide the following preferable consulting services:
One of the most critical forms of political consulting is strategy consulting, where a consultant acts as an advisor to a candidate or political party in the sense of helping them to create and follow a long-term blueprint or strategic plan. Such a plan helps to establish the direction that the political party will take in the long-term, along with creating a success map that defines the direction that the political party will take in the short-term in order to fulfill all long-term goals. 
Political Party Management & Consulting

 
Political Party Management & Consulting is often included in strategic consulting where political consultant assists the political party making them more efficient and professional  by optimizing the internal workflow and direction of the party as a whole including party structure, hierarchy, organizational change management assistance, handling workflows/operations and duties, database, workplace environment, leadership training and much more. It also includes hiring team for door-to-door surveys, booth management, rallies, campaign management, documentary shoots etc. Political Party Management & Consulting help improve performance, primarily through the analysis of existing problems and development of plans for improvement. 
Information Technology Consulting


Information Technology Consulting lies in providing IT and digital marketing services that empower political parties and candidates to bring them closer to potential voters. Political IT consultants include a vast array of experts that work within many digital areas, all of which may help in aligning their IT infrastructure and strategy with election strategy. IT consulting services includes Online Reputation management, Branding, Website, Social Media Marketing, Promotional Bulk SMS/Mails, Mobile Application, Campaign designs and other digital marketing services. The team also set up a war room that includes computer systems and war room software along with a skilled IT team to track, analyze and manage swift measures to provide decision-making in campaign plans based on voters' mentality on and before election.
Election Management Consulting

 
Election Management Consulting helps maximize the political strategy with innovative campaigns and research methodologies that can help candidates win the elections. Election management consultants use robust management plans and case studies to help become aware about potential voters and create strategies to influence the undecided and new voters to support the candidate. Booth management, advertising, voting and social media optimization, political advisory services, political training, asset management. Team restructure and war room management are a part of election management. Election management consultants also provide provision of advisory services to provide policy options, analysis and evaluation.
Communication & Media Marketing Consulting

 
Embracing and adopting the latest technology to reach out to your voter base can help enhance the chances of winning in the elections. Communications & media consultants are effective thought-leaders and experts who can help the political parties radically revolutionize their marketing pipeline and convey important information or updates through various channels and media with the help of digital media marketing techniques such as Social Media, Strategy, PR, advertising, Constituency Profiling and Management, Campaign Management, Digital Media Management and Content Placement strategy. Instead of depending on traditional media alone, digital platforms makes it possible to build strong presence and create strong bond among the voters that includes:
Implementing a strategic media marketing plan and identifying the audience

Creating content marketing plans for decreasing churn rates and increasing conversion rates, which often includes designing effective campaigns for increasing voter base.

Aligning all marketing goals with a robust marketing funnel scheme that is linked to every phase of the media management.

Conceptualizing and implementing new ideas for better media space

Develop needed resources such as social media creatives, mobile app, websites, campaign songs & documentaries to reach messages that politicians want to convey to voters during elections.

 
Communication & Media Marketing experts – who are often digital marketing consultants – can help a party or candidate discover novel opportunities for more advantageous marketing & advertising strategies, such as holding press conferences, or creating promotional bulk SMS/calls in different languages for different regions.
Political branding represents the public-face and overall representation of the political party and brand consultants handle everything from its Public-Relations (PR) department, to the design, logo, and visual imagery of the candidate and political party. Essentially, the political brand is every symbolic representation of the party. Optimizing the political image is just as important as optimizing marketing, rallies and campaigns. Political brand consultants can help a candidate discover new ways for presenting themselves to the public in the most appealing and advantageous manner possible. This can include designing different logos and visual set pieces, banners, and can include utilizing specific PR best-practices to ensure that the public view of the candidate is at its best.
The purpose of Leadership consulting is to produce better qualified, ethical, accessible and more representative public leaders in India at state and Central governments. Leadership consultants provide leadership development of candidates as well party members who have been identified as having the potential to become future public leaders. Leadership training programs include personalized training, theoretical knowledge as well as practical training, public speaking, image building, decision-making, tech, media training and more. 
Political Consultant – A Functional Expertise for Every Field
Political Consulting firms and experts offer companies a unique "think-tank" asset that allows the candidate or political party to achieve a successful political journey and know-how. As a political consultant, Acharya Election Management operates in every field, and can help with every issue that the candidate faces. Mostly, Political party members are not equipped to handle complete election management but can be handled by an external consultant. Instead of hiring a salaried specialist long-term, it is often more cost-effective to hire a professional political consultant who has the knowledge and skills to help solve your election management's pain points, and to offer novel solutions that can help your political image grow and scale. Acharya Election Management team put complete attention and provide customized services as one of the strategic political consulting firms in India. If you have any queries regarding political consulting and services, we are here to help.