How Are Bulk SMS Services Useful For Election Campaigns?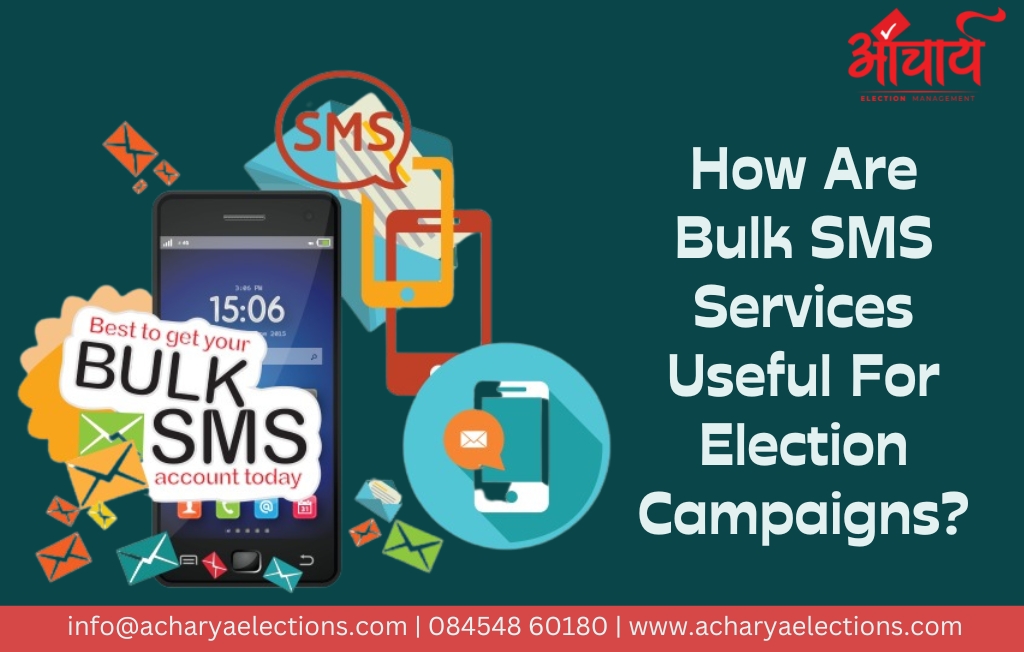 Election Campaigns are the means by which candidates and political parties prepare and present their ideas and address issues to the voters in the period before the poll day. Political parties use a variety of techniques to reach voters and deliver their messages, including through traditional and new age methods.
Due to the rise in the number of smartphone users, many politicians are connecting with their audience through digital media. Political parties can opt for sending SMS to their audience before the main campaign. Candidates can easily gain attention of voters in real time and win the elections by the use of Bulk SMS and send updates, reminders, and alerts like candidate information, election dates, and voting awareness to the public, campaign message and participation etc. Bulk SMS Service is one of the smartest, fastest and cost effective ways to share your parties' agenda and vision to a large number of groups without travelling long distances, meeting personally or spending a huge amount. Even a single sentence can be powerful to bring a revolution in politics. So let's see how Bulk SMS services are useful for election campaigns.
Convey your message to the supporters
Bulk SMS services make sure that the supporters get all the updates about election campaign developments in no time. It helps to reach out maximum people all at once and share event alerts for rallies, meetings, voting details and any media appearances. Bulk SMS also helps deliver important updates through text that creates a direct connection to your voters. Delivering your political message in the regional or local language can help you connect better with voters.
Quick Updates & Announcements
Bulk SMS service shares all the updates and news about the election campaign with the people. You can also share new announcements to keep the people informed about any recent changes. It is also a great way to notify local supporters and youth with volunteering opportunities at the upcoming event. All in all, it is a multi-beneficial way to deliver your message and boost your presence among the people.
Personalized & Powerful Campaign
SMS messages are short, concise, and informal one-to-one communication thus, adding a personal touch to the process. It makes your campaign more powerful and helps voters connect with the candidate and be more receptive to their political agenda.
Low Advertisement Cost & High Returns
There are many traditional channels such as newspaper ads, banners, hoardings, and television ads, but they are much more expensive in comparison to bulk SMS services. One can conduct an SMS campaign for a much lesser amount needed for the other promotional channels, giving lasting return through awareness, message delivery and wide reach.
Benefits of Bulk SMS Services for Election Campaign
Easy to spread messages or inform the people of respective locations in just one click.

 

No internet connection is required compared to mail and other online messaging platforms.

 

SMS will reach faster than other door to door campaigns and saves time.

 

One of the most affordable form of traditional marketing

 

Creates a great impact on voters' minds and makes them trust you as the SMS will reach every individual personally.

 
Acharya Election Management and Political Consulting Firm in Navi Mumbai provide a wide range of services including Bulk SMS, short code SMS, long code SMS, marketing alerts, missed call alerts & much more along with creative bulk SMS templates. We also provide Voice SMS, Bulk SMS, Voice calls with caller ids, WhatsApp SMS services and other promotional solutions designed for election campaigns for every state in different languages.
Our Bulk SMS services include full support for marketing and technical issues that is branded according to your political party name. Learn more about how easy it is to plan Bulk SMS campaigns with us. Contact us to know about the updated information and latest news about various communication channels that promote your agenda.