6 Steps to Develop a Winning Political Marketing Campaign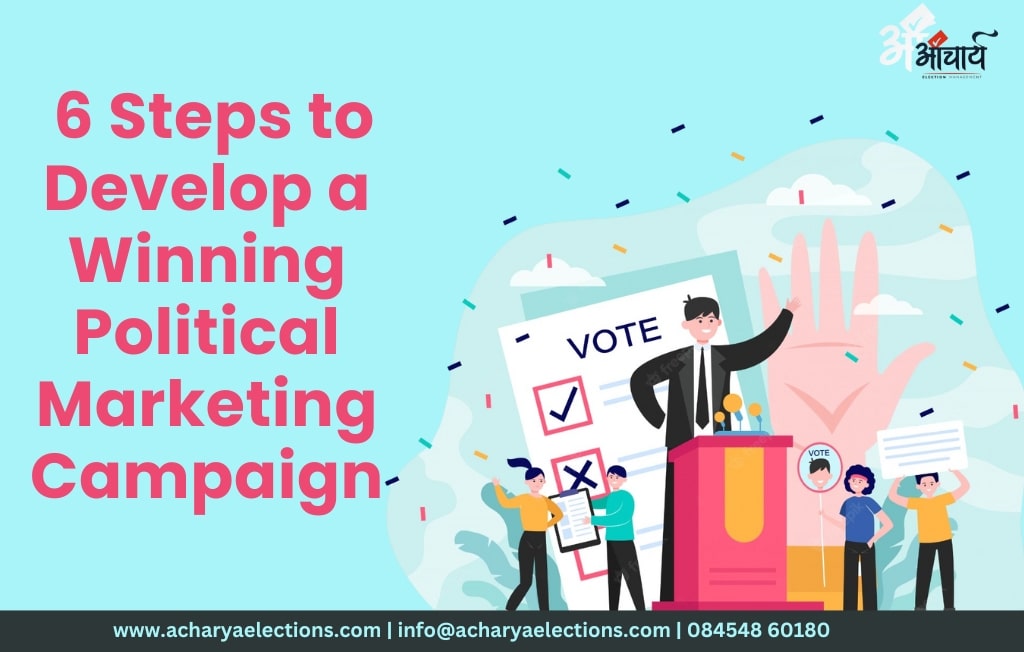 As the 2022 year ends, it's time for political parties and candidates to gear up for the next year's elections. National and State Elections are near and new political strategies and campaigns look at ways to connect to their supporters. There are a myriad of campaign election ideas available out there. But the question arises, how to build the most effective winning marketing campaign?
Successful campaign is a combination of different elements and can be extremely important in winning over voters' hearts and establishing a bond. The campaign strategy considers a campaign's objective, messaging, target market, and available resources. It will adequately work to find supporters while also spreading its message. As a Political Consulting Firms, we suggest six most popular political winning strategies you should consider when planning your next political marketing campaign.
1.
Defining your potential voter audience
Identifying your audience is the first step towards winning a marketing campaign. It is important to know who your potential voters are and how to influence new audiences. Before creating an effective message it is important to pinpoint the needs and views in the community and work towards it. Craft your campaign goals focused on solving their situations.
2.
Choose your medium and make a budget
There are many platforms your campaign can use for Political Consulting. Finding the right channels begins with thinking strategically about your goals, that is to sway undecided voters, increase voter base, attract financial supporters, or any other goal.  You should consider your audience you're trying to reach – where do they spend most of their time? What sources do they consider credible? Which channels offer value that matches the budget of your campaigns? Once your goal for the campaign is clear, you can begin to select the mix of online and offline channels such as social media marketing, digital and PR media, handouts, mail, preset events, paid media, banners, rallies, and more that will best serve your purposes.
3.
Build a Campaign Message
Make your campaign message the pillar of your political strategy. The message may include several talking points regarding political and social subjects. Craft a successful message by undertaking research and assessing public opinion on issues that they face. Research allows marketers to understand baseline opinion, know the potential audience and identify messages and emotional appeals that may have positive impact. To leave a lasting impression on the electorate, the message often reiterates the key aspects of the campaign. 'Chai pe Charcha', 'Man ki Baat', 'Made in India' are popular campaigns that made instant noise within the audience and fuelled the marketing efforts of the party.
While developing the message it is important to understand its characteristics and criteria. To make up a strong message ensure the message is:
     

Short and effective

     

Trustworthy and truthful

     

Important and persuasive

     

Unique and Clear

     

Targeted and delivered in different languages
4.
Use the right digital marketing medium and content format
Since the political marketing campaign is time-sensitive, you need to choose digital platforms to stay on top of the results of your campaigns at all times. Construct your goals, strategies and build a team to coordinate all the scheduling and activities of the campaign. Political campaigns allow you to put out a clear message that is continually reinforced on all the channels where your potential voters engage with you. Hence it is important to create an integrated marketing plan where all the creative content formats must be unified. Your print ads should be integrated with your digital advertising campaign, which should also be aligned with your blogs, press release, bulk call/messaging and email marketing plans. Hire a designated professional team to work on every aspect of your campaign, from design to door-to-door survey and online advertising. For social media marketing, collaborating with well-known influencers as well as the general audience can help spread your message rapidly. This will allow voters to easily connect, know what you stand for and what they are choosing when they vote.
Political marketing and channels to be considered:
1.      Social Media Marketing & Advertising
2.      Audio/Video Marketing
3.      Search engine marketing and advertising
4.      Content Marketing
5.      PR and News platform
5.
Have a well-designed website
Every political candidate needs to have an eye-catching, engaging website for people to visit, especially during election season. An informative website is the cornerstone of your political as well as personal brand as potential voters will often visit your website after hearing or viewing an advertisement or attending a campaign appearance. A campaign website also allows you to keep your community up-to-date with the important updates and recent campaigns, make personal connections with new and existing voters and supporters, and promote your message and expertise.
6.
Learn about your political rival's online strategy
At the end of the campaign, track and analyse the results to determine whether you succeeded in meeting the goals outlined in the first step. If your campaign did not have as much success rate as you expected, start learning about the marketing strategies of your components. These are the sources who share your target audience and have similar political goals. You'll find out what makes them different from yours and monitor how they position themselves in the political race. This will help you track where you lack and will be able to strategies your campaign in the most effective way.
Political Marketing Campaign Best Practices: Final Thoughts
Developing a political campaign is exciting – as long as your marketing and advertising efforts are on point. The best political marketing ad campaigns tell the story of your candidacy in a compelling and authentic way, across the channels that speak effectively to your potential voters. And when those efforts convince them to take action i.e. casting their votes – all your hard work will pay off.
As you decide which tactics and channels you want to use to skyrocket your voter engagement efforts, don't hesitate to reach out to our professional consultants at Acharya Election Management, one of the best Political Consulting Firms in India.