Develop your election strategy to win with Acharya's Comprehensive Campaign Management Services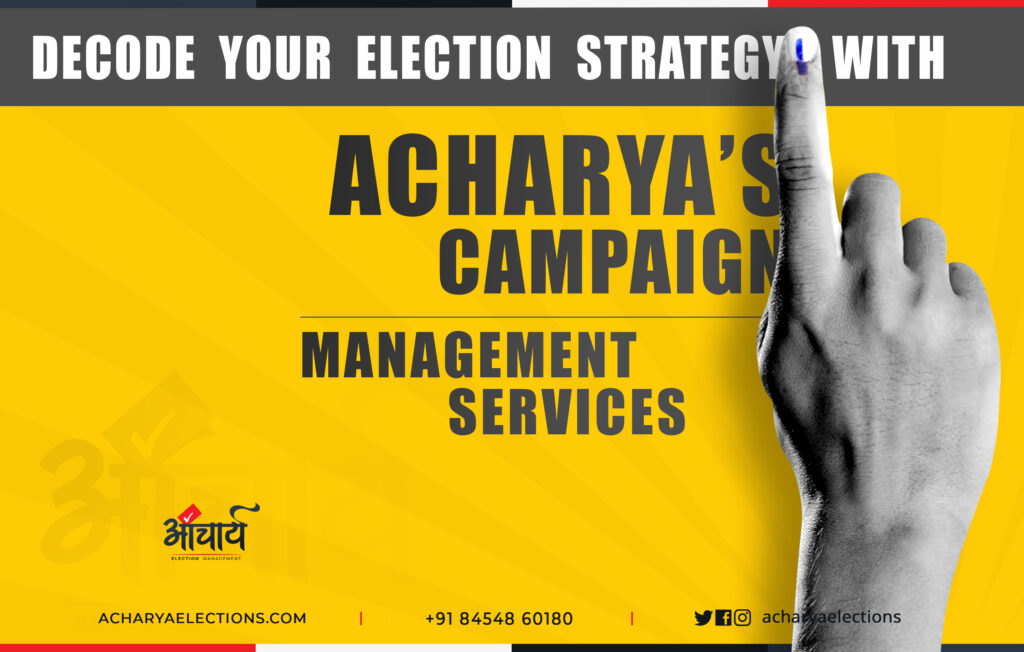 Solid political campaign marketing strategies can make all the difference in winning every elections. Effective campaign marketing for politicians create more awareness around a politician's brand, while creating an image that stand out and target ideal audiences by combining different types of political campaign management services.   
What is a Political Campaign
?
A political campaign is an organised activity to promote any position or candidate seeking position subject to general election at the local, state or national level. In democracies, political campaigns often influence the decision making progress within a specific group, by which representatives are chosen or referendums are decided. 
Our team brings together political savvy techniques and strategies.
One of the hardest tasks a politician or political party can imagine is winning the trust of voters. A deep study of the requirements of the people and keeping the promise to work through to improve them. The research step is essential as Political parties have understood those strategies that had worked yesterday, might not work in the current scenario. Our expert team coordinates with you personally or your team to provide guidance and learn the loopholes that have been hampering your political party from achieving victory in the polls. Through various techniques and strategies, your sole identity and political party can earn unbreakable digital fame and reputation hence, helping you win elections with an enormous number of votes. 
At present, many political parties and candidates set their political career road mapping with election campaign ideas, media strategy for political campaign and social media political campaign strategy done from Acharya, the Election Management Company from time to time.
Acharya offer comprehensive Election Campaign Management services, public relation strategy to being Political Party Registration Consultants. Being the top Election Promotion Company & Digital PR agency in Navi Mumbai, India, our innovative Digital Marketing strategies for political campaigns and research methodologies can help candidates win toughest elections.

Political Campaign Consulting Services
Voter's Door to Door Survey
Before conducting any election, we perform a door to door survey and prepare a database that helps candidates be aware about the information of voters and opponents.
Voters' family data collection

Recognizing caste & religion based on area

Collective database on political activists or opponent of particular area
Election Strategy Development
We identify your goal and create proven strategies and management system done with speed and credibility.
Set vote goals, budget and best suited campaign strategies.

Analysis of booth strength and voters volume for election forecast

Using the most up-to-date technology tools and methods to compile the Election Register.

Maintain candidate's base by skillful media, pre-poll Survey and message management.
Political Leadership Training
Enhance and promote successful leadership of public service candidates at all levels and deliver the needed training to both the party members and leaders so that they can create a real time bonding in a better evolving way.
Guidance about voters awareness

Election Management training

Volunteer training

On-Spot Helper training 

Media Campaign training

Organisational Management Training
PR Media & Management 
Media and information management are the most important activities of Political PR, shaping public opinion. Acharya creates necessary strategies and tactics for communication with the public and the media.
Build strong presence with campaigns

Create news-worthy content

In-person events, building and nurturing media relationships

Booth Management
At the booth levels, constant engagement with the voters is taken into account by the team as to be the best hope for candidates and parties in the absence of strong local leadership. An extensive preparations are done at every booths and leave your indelible impression through following ways:
Setting up a booth committee at the booth level

Revise voter list 

Hold strengthening drives at booths

Carry out social media campaigns

Create local WhatsApp group for spreading awareness

Schedule rally on voter's convenient time

Gain feedback from people in constituency
War Room Management

War room is a major chamber of political campaigning where all the movements happening in public are monitored by the skill core team in our electoral field. We make swift actions and provide skilful decisions in every minute plan customised based on voters' mentality on and before election. 
Set-up monitoring room with PCs, information examiner, analysts, technical support, and skilled IT staff .

Manage all social media campaigns 

Ensuring rallies and favourable voters result

Quick action with efficient strategy 

Regular contact with voters 

Inform electoral head about voter's response

Manage voter turnout and response via call centre

Promotional jingles and video film (Documentary Service)


Digital Marketing & IT Solutions for Political Election Campaign
Digital marketing for political candidates with an effective brand message has come to be recognized as a highly important medium grown over a decade. Every election witnessed extreme surge in use of services of political digital marketing agencies in India. All the major National or State/Regional political parties as well as individual candidates took services of digital marketing for political campaigns and personal branding to reach their audience via different online platforms. 


We at Acharya Elections, specialise in Digital Marketing for politicians in India, we focus on target audience, which is very important for political party(ies) or candidate(s) to gain the attention of the potential voters. Our digital marketing & it solution includes:


Online Reputation Management & Branding
Online reputation management is the process of managing the online information about a candidate, or a party to ensure that their online presence supports or improves their reputation. Acharya elections highlight your brand image and build up your reputation before the election with following aspects:
Profile Creation & Management on Social Media channels

Positive publicity of Candidate and party

Track and eliminate negative comments and reviews

Create proactive strategies and campaigns

Connect with voters through messaging platforms

Promotional video/image, webinars and campaign ads

Daily news and events updates

Campaign Song & Documentary
Promotional Bulk Messaging & Calls
We deliver all the standard bulk SMS/Call services and have dedicated customer support to reach a mass audience to promote your identity and create positive presence. We provide Promotional bulk push sms, transitional sms, election sms campaigning, automated text to voice service, voice broadcast and Voice with DTMF services.


War Room Software
Acharya, one of the best and most experienced Political Consulting Firms, takes care of every minute detail during the elections with war room softwares. We maintain a complete track of real-time voter clusters/sentiments, volunteer performance, competitors analysis, and last-day voting tendencies. We provide analytical and actionable insights through this software management system.

Mobile Application & Softwares
Acharya elections provide ready-to-use customised mobile application and softwares such as Janta Darbaar that allows you to collect voters data, showcase live updates, create social connections, manage content, live feeds and campaigns. Our mobile applications and softwares are user-friendly with efficient branding and can be accessible for IT professionals as well as minimal literate people.


Website Design & Development
We build up a personal website that includes outstanding branding, user- centric information, candidate biography testimonial, and work reviews. Political parties or politicians can share all the important information about their daily life updates and political activities. 
Are you a politician searching for someone to manage your online reputation? Get in touch with us now. Through availing our services, you will be able to win every election. We simply just monitor and strategies your work to ensure you excel in every area. By hiring our dedicated team, you are saved from investing unnecessary huge amounts of funds in political campaign management. 
Fill out our online form in contact us or give us a call at +91 84548 60180. Let's work together.